History:
I wanna be like Milhouse too!
A personal history of the Jet Bumpers by webmaster Marc
Its August 2004 and it took me almost two years to get this website done. So hereīs my personal band history, it might help explain why I love the band so much, and how I became webmaster of the Jet Bumpers website.
Everything started when the "Between" (a small punk club in Cologne. R.I.P) organized a "Special Ramones Evening". I canīt remember the exact date, but it was around late 1996, or early 1997. It didnīt take place in the Between, but in the larger "Stollwerk", also in Cologne. Marky Ramone and the intruders were headlining, with 3 other bands opening. My old pal Jan and I are fanatic Ramones fans, so we had to go to that show (we also had a self-painted RockīNīRoll Radio sign with us!). The first two bands were terrible! I canīt remember the band names, I canīt remember how they looked, all I remember are long guitar solos and complete boredom! The boredom completly changed into enthusiasm when the Jet Bumpers, who I never had heard of before, went on stage.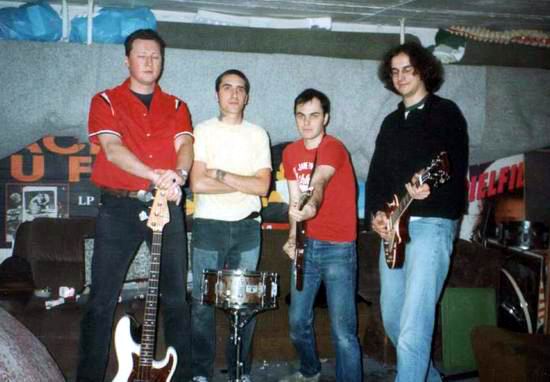 Early photo, left to right: Michael Lehr, Monroe Sunset, Jenz Bumper, Sexy Bumper
They played beautiful short punk songs with great names. Who can resist a song called "My girlfriend is a techno-bitch"? And I always have been a fan of bands like the Ramones, Screeching Weasel, etc... and the Jet Bumpers were another band to cover the Angry Samoans classic "My old manīs a fatzo" in every show they played. If my memory is correct, they also played their hit "I wanna be like Milhouse", a song I couldnt resist after years of being a Simpsons fan! Another reason why I liked the band so much was that they were really really likeable. Band leader Jens sure is a great entertainer, and its not a surprise that one of the Jet Bumper hits is called "I talk too much". After the concert I bought the new LP and kept listening to it for quite some time. Their first album "Blast off" was later reviewed by the Blurr-fanzine as best record of the year.
A couple of month later, it was Popkomm time again in Cologne, and one of the many events and concerts featured the Jet Bumpers. This time in the Between itself. Other bands that evening were the TV Killers, the Cellophane Suckers, and at least 2 more. It was a hot night! But what to exspect in a small, underground club, with absolutely no air condition? That evening saw the premiere of the "Radar Love" - cover. Quite funny was how it was announced: They said they played a show in the Netherlands a few days before, and they told the dutch audience that this was a special thing for that show only. But it was a lie and now they played it again. After the show Jens came to me and said thanks for singing along - because that would always be very motivating (or something like this). I canīt deny that I was totally exhausted after the Jet Bumpers gig and went home. But not before buying a Jet Bumpers shirt. To be honest, its not a beautiful shirt, but that never stopped me from wearing it. And I was really glad to have a piece of dry cloth I could slip into. Around that time the "I wanna be like Milhouse" single was released. I once read in an interview, that the record doesnīt have any contact adress, because they stole Matt Groenings characters and didnīt want to get any trouble.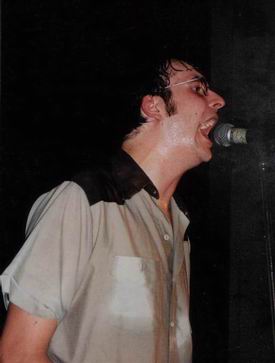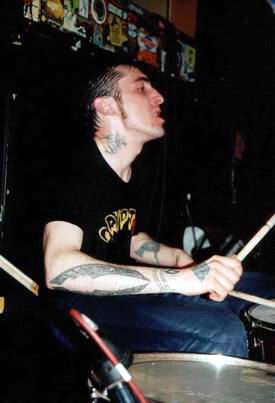 Sexy Bumper, guitar and backing vocals Monroe Sunset, "The Thunderdrummer"
The next release was also the reason for the next show: Release party of the "Letīs rock" split-single with the Cellophane suckers. Location was the "Underground" in Cologne. All I remember from that evening is, that I was there really early, but the show started late, and so I had to wait a real long time. But when the music started the fun started too. Later I once was the reason for a Bumpers show. Jan (the guy who had been with me at the first show) organized shows in the JH Bunker in Leverkusen and I asked him for a Jet Bumpers show, and it happened. Sad but true, I broke my leg a couple of days before and so I could watch the concert only sitting. That was in early 1998 and the band, for some time, was only a 3 piece, because the bass player quit. So guitar player Christian went to the bass and Jens remained on guitar. Of course the missing second guitar took a lot from the sound.
Only with 3 members the second LP "Its a sexy burnout" was recorded (but with 2 guitar tracks!). When it was released the band had already found a new bass player. And there was again a release party and again it was in Cologneīs Underground. The other bands that evening were the Cheeks, the Sonic Dolls and the Cellophane Suckers. The new record hat a huge coverart and a comic. For the first time Christian did the lead vocals on some songs. And some more milestones for the band were included on that album ("Non-emotional-Asshole type of guy" and the sequel to "The day I quit smoking pot" that is named "And the chemical industry wonders why").
The next time I saw the Bumpers they opened for Man or Astro man, in the Getaway in Solingen (30 minutes only). Around that time I also bought the bands first single "Nonstop Pepsi Party", maybe even before, I canīt remember the exact time. In 1999 another single "If you want action youīve got it" was released. Personally I dont like that record that much. Maybe because it sounds a little too much like RockīNīRoll and less Punkrock. I always loved the Bumpers for rocking like hell, but always staying a PUNKrockband, if you know what I mean. But it was around that period when Schweinerockbands from Scandinavia were really popular, but I never got into them (with the exception of Turbonegro). As far as I know (and what I read in various fanzines etc..) this was the reason why the band split up - differences about the bands future and how they wanted to sound like.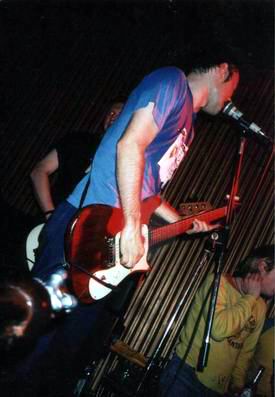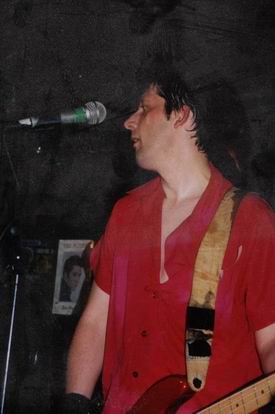 Jenz Bumper , guitar, leadvocals and talking Dr. Bass
So the one thing to be left was the goodbye show, the last Jet Bumpers show ever! Of course in the Underground in Cologne. And it looked like the perfect evening: It was the same day TV showed the Simpsons episode with the Ramones playing on Mr. Burns birthdayparty. And when I arrived at the Underground there was a giant screen and nothing else but "RockīNīRoll Highschool" on it. Great! Jenz once taped this form German television where it was shown in two parts with a moderator announcing the second part and he was pronouncing Ramones completly wrong. Funny stuff! Also some historical video footage was shown from the very first Jet Bumpers concert. Jenz with a strange guitar looking like an axe that would look good at any Skorpions concert. Also a female singer with an Angry Samoans cover. In fact the band was founded just to play that one concert, but Tom from Radioblast Recordings liked them so much, he wanted to make a record with them. Thats how all started, and now it was about to end. The final Jet Bumpers show ( the band allways was a great live-band. On stage they were much better than on any of the records, of course the records dont include Jenzī talking on stage.) And it was a great evening. All hits were played while I was standing in the first line in front of stage and having a good time. Then some goddam asshole ruined my day. Between two songs a hand hits me in the face, knocking my glasses on the floor and stealing my Queers-Basecap! (The one with the old design (Allstars-Logo), anyone know where to get another one?) So I pick up my glasses before the next song starts and they get destroyed. When I turn around my caps gone and I was really pissed. I spent the rest of the evening looking if someone "accidentally" wears one, but I never saw it again. Thank you asshole! I hope you got parasites and your hair fell out! My mood was completely ruined! So I even had no fun when the Bumpers played one of favorite songs they never played before: "And Iīll never smile again", the ballad from the first album.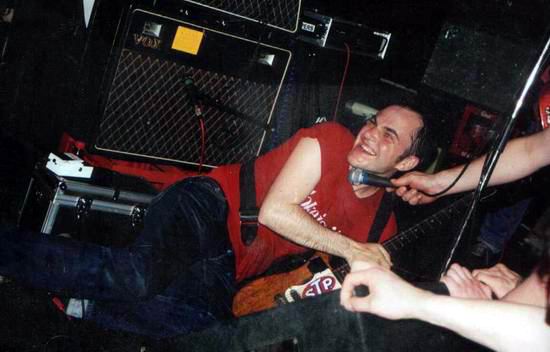 Later another Splitsingle was released. This time with the Backwood Creatures. Once again the Jet Bumpers did their best. The guitarsolo in "Iīve got a girlfriend too" is soo beautiful I makes me cry! More then a dignified end. It became quiet around the band and for some time I didnīt pay any attention. But then the internet came with all its possibilities. I started talking with people from all over the world about music and bands. When talk came to German bands I always thought about the Jet Bumpers, but it was impossible to find anything about the band, not even to think about MP3. The internet is an almost empty space when it comes to Jet Bumpers related information. (Well not anymore!) The complete opposite of this is the Sonic Dolls webpage! You can find some complete albums for free downloads and tons of other stuff. That made me think of some similar for the Jet Bumpers. And then it took some emails, phone calls and hours working on this here to get it done.
But: Dont we all wanna be a little more like Milhouse?
P.S. So whats going on these days? Jenz now is playing and singing with the Dirtshakes, together with his brother and Öli from Cave 4. The Dirtshakes sound a lot like the Jet Bumpers. The rest of the band (Sexy, Monroe, Dr. Bass) are now playing together in a band called Radiation Kings. They sound a little more Rock N Roll alike.